2013.10.22
[Event Reports]
10/20 (Sun) The Rules of the Game – and How Far They Can Bend: Competition "Bending the Rules" Press Conference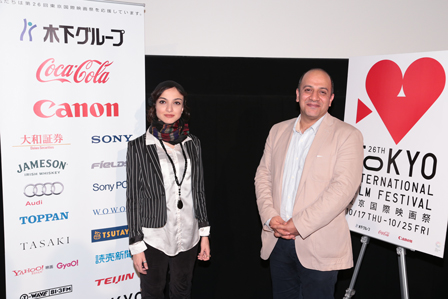 ©2013 TIFF

Competition "Bending the Rules" Press Conference

Behnam Behzadi (Director/Screenplay/Editor/Producer/Original Story/Investor)
Neda Jebraeeli (Actress)

"Bending the Rules" director, Behnam Behzadi and his star Neda Jebraeeli came to Tokyo for the international premier of their new film. Bending the Rules follows a company of young Iranian actors who are working on a play that they hope to take overseas to a theatre festival – much to the chagrin of their respective parents, particularly the father of Shahrzad (Neda Jebraeeli), who threatens to torpedo the whole undertaking. Generational conflicts in modern Iran are given the stage in Behzadi's thoughtful drama.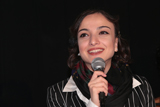 ©2013 TIFF

In their first visit to Japan, they were quizzed about their favorite Japanese films.

Behzadi responded, "It's very difficult to just name a few, but if I were to say, the first film that I saw was 'Rashomon' – and I was still young, but I still remember how much I was touched by that movie. And also, emotionally, I am very attracted to 'Ugetsu Monogatari.'"

Jebraeeli added, "I was going to say exactly the same two titles that the director just mentioned-'Rashomon' and 'Ugetsu Monogatari,' but he said them first. If I were to mention a third one it would be Akira Kurosawa's 'Ikiru.'"
When asked about the title of the film, Behzadi explained it this way, "What I had in mind with this title is that basically that rules are always set by people with power. And the people under them have to obey. So in this case the father is the one with the power. And he comes to that place and says if the daughter is not found then he… in a way he threatens the players – that he will stop them from going abroad to the festival. And therefore that's the rule that he set. But the young people decide not to go in the first place, which means that they bend the rule the father set and go, in a way, above the rule, deciding not to go. It's sort of unexpected. So therefore, right now and generally speaking you can say that young people are trying to bend the rules that were set by the generation before them – and then trying to find a third path to take. And this is what's going on and this is why I chose the title 'Bending the Rules.'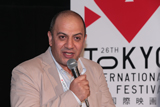 ©2013 TIFF

Behzadi added, "As a director, when I make a film, I don't think I have to explain everything and I think the audience should be able to watch the film and have their own interpretation."

And to take it a step further he said, "As a viewer I prefer movies that really have a broad perspective and lets the audience think. Therefore, whenever I make my own films I like to make those kinds of films.
Adding her own personal perspective to one of the issues raised in "Bending the Rules," Jebraeeli said, "I'm here at the film festival today in Japan, traveling abroad. Maybe two, three years ago, my own father may have not given me the permission and I might not have been able to come. "

Competition
"Bending the Rules"