2013.10.25
[Event Reports]
Closing Film "The Kiyosu Conference" Stage Appearance: Notes & Quotes
Thank you for your interest in the 26th Tokyo International Film Festival. A stage appearance was held for Closing Film, The Kiyosu Conference as follows:
Time & Location October 24th (Thursday), from 18:30 @TOHO Cinemas Roppongi Hills Screen 7
Appearance Koki Mitani (Original Novel/Screenplay/Director), Koji Yakusho (Actor), Yo Oizumi (Actor), Fumiyo Kohinata (Actor), Koichi Sato (Actor), Kyoka Suzuki (Actress)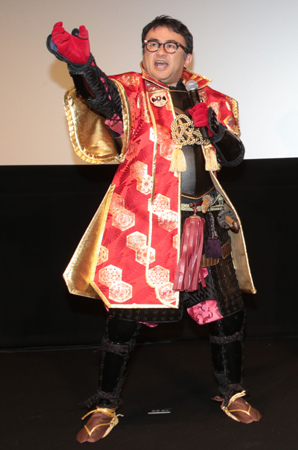 ©2013 TIFF

This is Mitani Koki's sixth motion picture and his first period film. It is also the first time in seven years for a Japanese film to be screened as the closing Film. The Kiyosu Conference is a history entertainment film and an all-star ensemble at Mitani's best.

Director Mitani and his cast were called onto stage where they each greeted the audience and commented on being chosen as the closing film.

Koki Mitani: Good evening. I am wearing the suit that Nobunaga was wearing in the film. It is so terribly hot! I think this film befits as the closing film for Tokyo International Film Festival.

Koji Yakusho (Katsuie Shibata): Thank you for choosing this film as the closing film. We're dressed in our kimonos as if it's Japanese New Year's. Please enjoy the film.

Yo Oizumi (Hideyoshi Hashiba): I understand that it's been seven years since a Japanese film was selected as a closing film. It is an honor to be standing on this stage today. Actually, I watched the Opening Ceremony on television and saw Mr. Mitani and Mr. Yakusho walking on the Green Carpet. My job in Hokkaido was cancelled that day because of a typhoon, so I could've attended the ceremony. I was very jealous so that's why I'm very happy to be here for the closing film.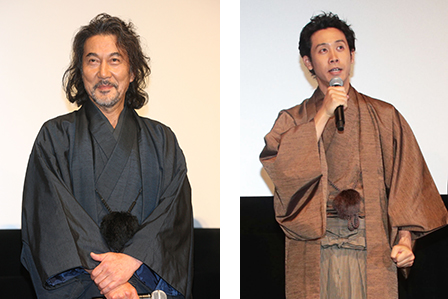 ©2013 TIFF

Fumiyo Kohinata (Nagahide Niwa): It's an honor to be selected as the closing film and it is a joy to be here today. This is Mr. Mitani's first period film so I hope everybody will watch this film, especially foreigners.

Koichi Sato (Tsuneoki Ikeda): This closing film is an entertainment film. It depicts what was happening after the lords had died, and the secret conferences that were taking place behind closed doors. Something even Japanese people don't know much about.

Kyoka Suzuki (Ichi): It's an honor to be standing on the stage where I usually come and watch films! I am also delighted to be standing here with such great actors and with this gorgeous kimono on. I believe you will all have a very nice time today. Please enjoy!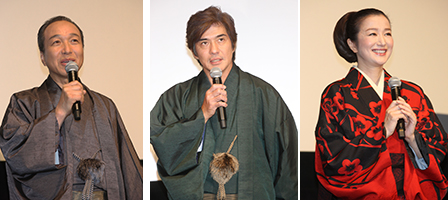 ©2013 TIFF

The Director and the actors were all wearing kimonos which were designed by Ms. Kazuko Kurosawa explained Koji Yakusho. He was wearing a blue kimono because that was his theme color in the film. "I appreciate how Ms. Kurosawa made us these kimonos for the stage appearance today" he added. Actress Kyoka Suzuki was wearing the actual costume she wore in the film. "I love this kimono!" she exclaimed, "I wear this kimono in a very important scene in the story. It's been arranged for the stage appearance today but it really is a beautiful kimono." Actor Yo Oizumi had something different to say about his light brown kimono. "In the film, my theme color is brown, but Ms. Kurosawa thought that brown would be too loud for the stage today. But looking at Mr. Mitani's very loud and shiny costume, she should've made me a gold-color costume!"

All throughout this, Mr. Mitani remained quiet, sweating profusely. "I have to make an English speech so all my thoughts at the moment are about that speech. I can't think of anything else at the moment." He nervously admitted. Kyoka Suzuki made him even more uneasy by encouraging him that she was very much looking forward his English speech. The audience and cast roared with laughter as he said, "Please, time is approaching for my English speech. I can't hear anything…"

Koichi Sato and Fumiyo Kohinata commented on what they hope the foreign audience will take away from this film. Said Sato, "This is a piece of Japanese history which portrays how the Kiyosu Conference changed the course of history in Japan. It was a conference to determine who Oda's successor would be, and to divide land among the lords. I hope the audience will learn something about Japanese history." Fumiyo Kohinata describes this film as an "ensemble piece" and that the costumes for each role are wonderful. He also humorously explained to the audience that "that man over there looks very strange, but Mr. Mitani is full of talent and has wanted to make this movie since he was in elementary school, so please enjoy it!"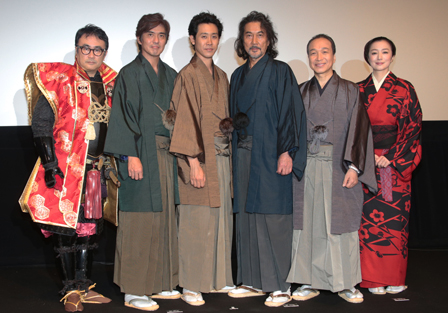 ©2013 TIFF

After the photo session came the moment for Director Mitani's English speech. The emcee couldn't resist reminding him that there were many foreign press and buyers in front of him, and that "depending on your speech you might get a worldwide distribution!" Here follows Mr. Mitani's speech:
"Jidaigeki (period film) is a genre specific to Japanese cinema. In Japan, there are famous jidaigeki lines such as, 'Cannot you see this pillcase?!', 'This world sucks!', and 'Daddy, Son!*' The Kiyosu Conference is also a jidaigeki but there are no scenes of sword battle; not a single splatter scene. Therefore, this film is a highly unique jidaigeki. I'm sure the audience around the world will enjoy this film. Thank you!"

There was a wild laughter as Mitani shouted, "No chonmage**, No life!" As the cast waved to the audience, the closing film, The Kiyosu Conference began its screening.

*popular lines from jidaigeki which almost all Japanese children grow up hearing
**chonmage refers to the topknot hairstyle of samurai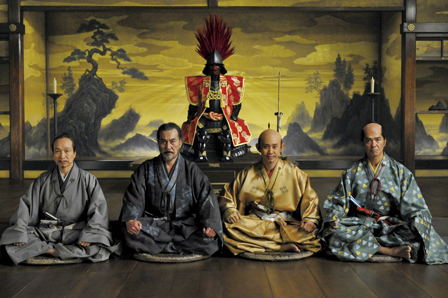 ©2013 FUJI TELEVISION NETWORK, TOHO