2013.10.25
[Event Reports]
10/23(Wed)World Focus: Taiwanese Cinema Renaissance 2013 Special Symposium: Notes & Quotes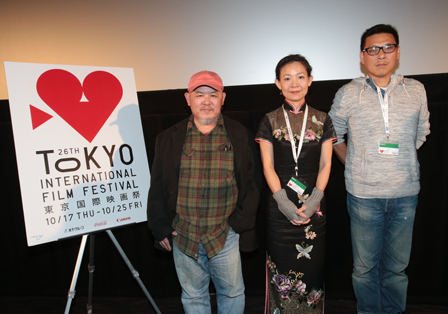 ©2013 TIFF

Thank you for your interest in the 26th Tokyo International Film Festival. A special symposium was held for the World Focus Taiwanese Cinema Renaissance 2013 films as follows:

Time & Location:
October 23rd (Wednesday), from 16:02 @TOHO Cinemas Roppongi Hills Screen 5
Appearance:
Lin Cheng-sheng(Director of "27°C- Loaf Rocks"), Hsu Chao-jen (Director of "Together"), Ho Wen-shing (Director of "Takao Dancer")

Three Directors from the Taiwanese Cinema Renaissance 2013 discussed the current film industry in Taiwan and issues that they face. Director Lin Cheng-sheng was in Tokyo in 2007 with his film, The Moon Also Rises. He was inactive for a few years but he's back with this film, 27°C- Loaf Rocks. Director Hsu Chao-jen expressed his enthusiasm of having Taiwanese films being screened at Tokyo International Film Festival. He was assistant director to Edward Yang and later became a television director. Together is his first directing film. Lastly, Director Ho Wen-shing thanked the opportunity to meet other Taiwanese directors at TIFF as she'd been living outside Taiwan for 17 years and just returned in 2011. She is a pianist and dancer and studied filmmaking in the United States. She graduated from Waseda University, doctorate program and became the associate researcher there.

The Symposium started with each director describing their career in brief. Lin Cheng-sheng began by talking about the reasons for his inactive years. "After I finished filming The Moon Also Rises in 2006, I went through a divorce and felt I needed some time off. Until then, I'd filmed seven movies which means I was constantly immersed in thoughts about filmmaking. I needed some time away from all the thinking." Although his plan was to take a two-year break, he was offered to shoot documentaries and write books which became an interesting shift in his career. "Shooting a documentary means not having to worry about the cinematography or direction but to focus on the reality before my eyes and to capture people's emotions." Lin Cheng-sheng added.

Another influential change in his career was the environmental changes in the film arena in 2010. The film, Cape No. 7 was a huge hit that had a record high box-office revenue. This led investors to demand better revenue to the directors. Lin Cheng-sheng's outlook is that "until then, revenue wasn't as important as the story of the film and investors understood that as well. I was naturally asked to make high box-office revenue films, so I spent about four years thinking about how I'd make one and adjusting my style."

©2013 TIFF
Lin Cheng-sheng(Director of "27°C- Loaf Rocks")

Hsu Chao-jen shifted his career from being an assistant director to directing television programs precisely because the film industry in Taiwan was not doing well. "It was difficult to fund a movie, relying on government subsidies and other means to find the money." One of his first jobs as a TV director was to shoot a television movie which led him to film idol TV dramas. In the meanwhile, Hsu Chao-jen was still applying for government subsidies and asking people for funds. He recalls that "that's when Cape No. 7 was released and suddenly my investors began to worry if they were going to be able to recollect their money, because I was shooting an artistic film. That's why it took me 10 years to get this far in filmmaking."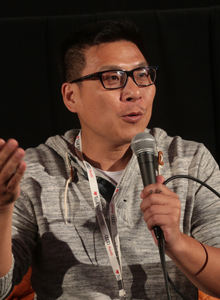 ©2013 TIFF
Hsu Chao-jen (Director of "Together")

Ho Wen-shing expanded her filming career by studying filmmaking in the United States. Upon graduating, she began teaching filmmaking. "So for many years, I was making experimental films with students. I was personally pursuing ways to use music as a means to express filmmaking. I visited The Czech Republic, Hong Kong, Singapore, and Tokyo and filmed my movies with funds subsidized by educational funding programs." In this sense, she was making films far away from the world of box-office revenue. She plans to shoot films in Chinese and hopes to see them screened in Taiwan.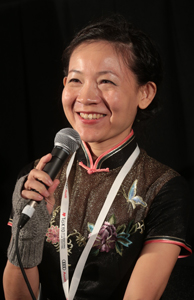 ©2013 TIFF
Ho Wen-shing (Director of "Takao Dancer")

The discussion went on to aspects of the Taiwanese film industry that they hope to see change. "The film industry in Taiwan is at a turning point. The road to the industry flourishing has finally been paved. I don't think it's right to criticize investors and production companies to go after revenue, rather, it should be encouraged. The focal point should be to think about how to establish a thriving industry based on revenue interest" firmly stated Lin Cheng-sheng. He further expressed his thoughts on how directors should bear in mind the consequences of producing commercial motion pictures because "there are limitations to government funding which is why the film industry should invest in young directors, experimental filmmaking, and artistic films with the revenue earned. These are the kinds of films that make up the culture of a country."

Then, there's also the mega film market, China, to consider. There are many Taiwanese directors who'd like to diversify out of Taiwan but the reality is that they must abide with China's film censorship system. "Making a film to pass the system is time consuming. Even if it's a success in China, there's no guarantee that it'll be the same back home. Therefore, directors need to realize that expanding their activities to China could result in a dilemma." Lin Cheng-sheng 's film, 27°C- Loaf Rocks will not pass the censorship system in China because of the final scene, "Taiwan, Taiwan, Taiwan!" But he explained that this film was made for the audience in Taiwan, not China.

Hsu Chao-jen also shared his thoughts on how the film industry could flourish in Taiwan. "What the film industry in Taiwan needs is a reliable producer who'll stand by the director. Many directors have no choice but to be the producer of their film, that is, they have to look for their own investors and negotiate." He called for the need for directors to be able to devote their time in filmmaking. Also, that producers should clearly understand what kind of movie the director wants to make: a blockbuster or an artistic film, and look for ways to realize the shooting.

Ho Wen-shing held a similar opinion as Hsu Chao-jen which came from experience. "I fully agree with Mr. Hsu Chao-jen. I shot a film in 2011 with a Korean director and really felt that Taiwan needed good producers. For instance, there were many problems with the post-production so that's why we came to Japan to seek Professor Ando's help at Waseda University."

The future of the Taiwanese film industry lies in the hands of young directors, said Lin Cheng-sheng. "I believe the new directors should eventually take over the veteran filmmakers. The older generation should be prepared for the day when there're no more offers—that's what being a director is all about." He is also very aware of the need for good producers in his country. "There was a time when only 13 films were shot a year, but now, there are 50-60 films made annually. This is a great growth for our film industry but I must admit that we need more experienced staff members."

Hsu Chao-jen intervened saying that "Wait, I grew up watching Lin Cheng-sheng films. I couldn't possibly take you over!" Lin Cheng-sheng's reply to this was, "I'm not going to make it easy for young directors! I think that's how they'll learn to make good films."

Taiwan has a history of foreign occupation by the Dutch, Chinese, and Japanese. Discussion began on how the directors plan to maintain the unique cultural diversity of Taiwan while creating commercial motion pictures. "Taiwan is a multicultural, multiethnic place which will not interfere with producing commercial films. Cape No. 7 is a good example of this. It depicts the relationship between the older generation and the Japanese as well as the young Taiwanese generation today. Perhaps the issue is whether our diversity will still be maintained in the next 50 or 100 years" said Lin Cheng-sheng. He also reinforced his thoughts on how the government should fund artistic movies to pass on to future generations. "These are the kinds of films that are not preferred in Taiwan, yet as they reflect our culture, they should be funded properly."

Hsu Chao-jen stated that preserving the unique cultural mixture of Taiwan depends on the director's point of view when shooting a film. "The history we have is part of our everyday lives. There are many buildings built by the Japanese and we are influenced by the food culture of Japan as well. Just as Director Koki Mitani's closing film, The Kiyosu Conference, which is a very Japanese film, we can equally make a very Taiwanese film" he asserted.

The three directors agreed that the Taiwanese Cinema Renaissance is a very meaningful section for filmmakers in Taiwan. "Shooting a film reminds me of the importance of human relationships and life itself. I'd like to make many more films about people and life." commented Ho Wen-shing. Hsu Chao-jen commented with hope. "I'm grateful for the opportunity to discuss the film industry in Taiwan at this festival, and for the chance to have our films transmitted worldwide." The final words came from Lin Cheng-sheng. "I hope the Taiwan Cinema Renaissance will be held again at the Tokyo International Film Festival. I believe the Taiwanese film industry will flourish in its own diverse way."