2013.10.25
[Event Reports]
10/24 (Thu)13-year-old girls know more than you do: Competition "We're the Best" Press Conference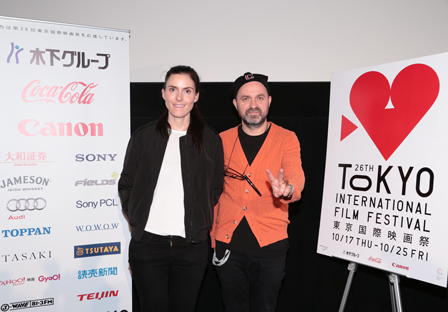 ©2013 TIFF
Competition "We're the Best" Press Conference

Lukas Moodysson is Swedish cinema's nostalgia machine. Many of his films are set during the 1970s and 80s, when not only Sweden but also the world was figuring out what modernism meant for the average person. "We're the Best" takes place in 1982, when Moodysson himself was only 13, and the three protagonists are 13-year-old girls who form a punk band after punk is already washed up. It is basically a story about coping with adolescence in the face of parental neglect, since all three have little to fall back on. Even the Christian-raised guitarist, Hedvig (Liv LeMoyne), seems more or less adrift from her mother's fundamentalism, though it has given her a means to explore her creative side.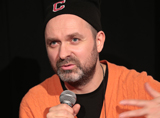 ©2013 TIFF

The center of the film is Bobo (Mira Barkhammar), whom Coco Moodysson, the director's wife, patterned after her own adolescence in the graphic novel on which the movie is based. "Usually, movies about this period and about punk rock are about boys," Coco said during the press conference. "I wanted to make it about girls." What's striking is that none of the girls in the film are feminine-looking in the usual filmic sense. They have short, punkish hair and wear no makeup or dresses. And even though Bobo and her best friend Klara (Mira Grosin) compete for the same boy, the competition is almost asexual. It has more to do with asserting one's position in the world.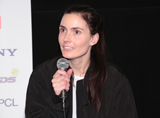 ©2013 TIFF

"Boys are boring," Lukas said. "I wanted to tell a story about girls, maybe because I identify with girls more, but in any case it's Coco's story."

The film has a manic quality informed by the actors' improvisational method. Though each scene has a setup and an end-point, it unfolds in ways that can't be predicted. The most striking scene involves a veteran hard rock bank that mentors the girls, lending them instruments for a Christmas show in the small town where they live. Bobo and Klara are rank amateurs who barely know how to hold their instruments, but Hedwig is accomplished and blows these guys away. For the first time, all three girls realize the power of achievement.

The reporters were clearly impressed by the acting, and Moodysson had no explanation. "I don't approach amateurs or pros any differently," he said. "I want all my actors to do their own thing. We auditioned many actors for this film, and in the end the selection was made based on intuition—not something they said, but something in their eyes, because the more they understood about the characters they were playing, the less I had to work."

Many of the journalists were intrigued by the Swedish music scene and wanted to know how it affected Moodysson's own adolescence. He downplayed the influence of ABBA, saying that the punk band Ebba Grön, which was already washed up by 1982, had more of an influence on Swedish pop than ABBA did. "It's amazing you know about that band," he said. "When they stopped playing it was a tragedy for many people. The lead singer is still a popular solo artist." Another writer tried to compare Swedish punk to Norwegian black metal, to which Moodysson commented, "It's interesting to me that the girl who kept the band together in the movie is a Christian, since black metal is based on Christian ideals, but I wasn't interested in being deep. I wanted the movie to be fun."

And it is. Unlike any similarly themed Hollywood movie, the music the girls play is not accomplished, even if it is spirited. The point is that adolescence has its own set of values, which Moodysoon explores in exacting detail.

"I enjoyed writing the story," Coco said. "Because two years ago Lukas wrote two sad books, so I thought I should do something fun. I had a good time making this story. I like the characters, and wanted to be around them."

Competition
"We're the Best"