2013.11.05
[Event Reports]
10/18 (Fri) Tsuburaya Productions 50th Anniversary: Legendary first generation Ultraman, Satoshi Furuya, "transforms" for the first time in 47 years! Susumu Kurobe: "Amazing!"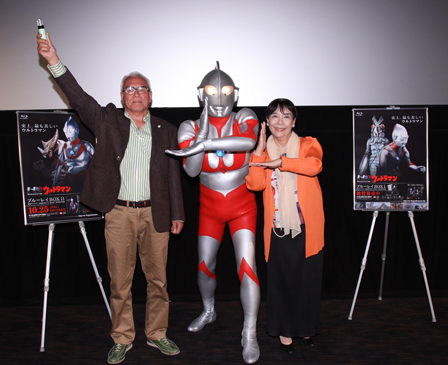 ©2013 TIFF

On Oct. 18, Furuya Satoshi, the first actor ever to don the Ultraman suit, appeared at a special event of the 26th TIFF in Roppongi, Tokyo, to mark the world premiere of Tsurubaya Productions' 50th anniversary HD Remastered 2.0 Blu Ray Box II set of the "Ultraman" TV series. Also on hand were Susumu Kurobe, who played Ultraman's human incarnation, Hayata, in the series, and Hiroko Sakurai, who played Akiko Fuji.

Furuya made his mark on history by appearing in 39 episodes of "Ultraman," thus making him the "legendary first-generation Ultraman." He is now 70 years old but still struck a tall, slim figure as he appeared in front of fans. His comments were heartfelt. "I accomplished 39 battles," he said. "I watched the remastered Blu-ray edition and was very impressed with the way the light of the industrial complex makes for such beautiful colors." Sakurai was also impressed and said with a big smile, "The visuals are so beautiful. They made me really happy to be actress." "Ultraman" has been acknowledged by the Guinness Book World Records as the one TV series that has generated more spin-offs than any other in the world. Kurobe made a profound comment: "The staff showed remarkable intuition 47 years ago. They really inspired children."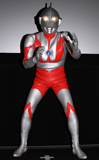 ©2013 TIFF

Kurobe also talked about the set. "We worked from early morning to late at night," he said in describing what a hardship it was. "The lunches were terrible." To work on the set was literally to risk one's life, since the special effects relied on gasoline and gun powder, and flames would sometimes reach up to the ceiling of the studio. Several staff members were burned. The special effects for the final episode weren't completed until ten days before it was scheduled to be aired. Kurobe said he watched the rushes with a great deal of emotion. Furuya recalled with a laugh, "It was tiring to fly, but even though we continued shooting well into the night, we could never finish."

The staff acted as a single unit to create the first season. Kurobe said admiringly, "Furuya-san worked the hardest. He accomplished something huge, because he had such a hard time. The TV shows that have survived these last 50 years are so thrilling." He added in an emotional voice, "All of us gathered here will never forget that special feeling we had when they were first broadcast." Furuya also made a forceful comment: "On screen there are tears, sweat, and patience. The entire staff worked together very hard, all night long. That dedication comes out on the screen. It's like an aura that contains their spirit."

The president of Tsurubaya Productions, Ooka Shinichi, was at the event and discussed what happened behind the scenes, drawing out the fans' interest. "There was a rumor that Eiji Tsurubaya, the creator of the series, shot the special effects for episode 19 himself," he revealed. "I tried to find out if this was true. I called the cameraman on the set, and for sure Eiji shot the special effects based on his own storyboards." At the end of the event, Furuya appeared as Ultraman on stage and demonstrated various famous poses for the first time in 47 years. Kurobe was very moved. "Amazing!" he said.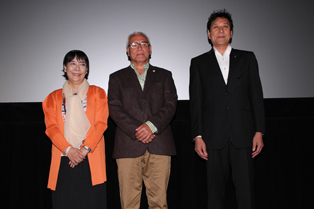 ©2013 TIFF

*This article is based on a Japanese article below by eiga.com.
tiff.yahoo.co.jp/2013/jp/news/?p=20131019-00000004-eiga