2013.10.24
[Event Reports]
10/24(Thu)Japanese Cinema Splash: "There's Nothing to Be Afraid of"Q&A Session: Notes & Quotes
©2013 TIFF

Q&A session was held for the Japan Cinema Splash section, "There's Nothing to Be Afraid of" as follows:

Time & Location:
October 23rd (Wednesday), from 18:25 @TOHO Cinemas Roppongi Hills Screen 3
Appearance:
Hisashi Saito(Producer/Director)

"My only wish was that you'd stay awake throughout the film," said Director Hisashi Saito with his quiet film portraying a couple's daily life in the city.

Many of the films that have entered this festival in the past two years have been influenced by the Great East Japan Earthquake to a certain degree. Yet, Director Saito explains that "I didn't plan to represent the incident in my film and didn't ask my scriptwriter, Ms. Hitomi Kase to reflect that as well. What I wanted to portray was just a couple living their life together." He had in mind to simply show an ordinary life of husband and wife. Saito sees life not as entirely peaceful, but as an accumulation of small incidents where some can be painful. "I just wanted to pick up those nuances of daily life." he added. "Actually, the book that Eri is reading is a Kenji Miyazawa book in which there's the phrase, 'there's nothing to be afraid of'. That's the phrase that Ms. Kase picked up for the title. The audience can interpret this film as they wish, but I think we unconsciously know that there are uncertainties in life.

The casting went relatively smooth as the actors and actresses he approached all agreed to take part in the film. As for Mr. Hiroshi Kashiwabara, a renowned action film scriptwriter in Japan, Saito shared how he was casted. "For someone who is well known in the movie industry for writing action films, it was a surprise that he agreed to be in such a quiet movie. Actually, he first refused my offer but upon reading the script, he agreed to do it but asked to have his lines reduced! In fact, I ended up increasing his lines. I believe it would've been difficult for any other actors to show such a strong presence as Mr. Kashiwabara did."

The movie is characteristically quiet with little verbal dialogue between the couple. Saito described the silence as perhaps having to do with cultural differences. "As an underlying thought, it is typically believed that words aren't necessary to convey one's feelings in Japan. This is something I discussed with Ms. Kase and we felt dramatic scenes or lines weren't needed for this film. What I wanted was for the audience to understand the feelings of the husband and wife through silence." He also referred to Yasujiro Ozu's films in how he depicts everyday family life and leaves it to the audience to understand what the characters are feeling.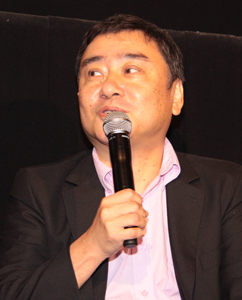 ©2013 TIFF

There was interest in why Saito included the issue of abortion. He shared his perspectives on the issue. "In Japan the presence of God is not that strong compared to other Christian countries. Having said that, the issue of abortion is not seen as a taboo as it is in other places. As for this film, the couple undergoes an abortion because they decide to devote their lives to each other without children. I discussed with Ms. Kase whether the hospital scene was necessary, but she insisted that understanding the wife's pain was necessary." Saito's intention wasn't about highlighting the abortion controversy, but showing the pain the wife had to go through all because of the decision she'd made with her husband.

In response to whether his film could have been a documentary, Saito explained that documentary films do not necessarily reflect reality, and that his film wouldn't have been possible as a documentary. "This may be unique to Japanese culture but not everything people say in words mean as they are said. That is, there may be some other underlying meaning or truth." Following this, he described a film as a chemical reaction, that even if you see people acting in front of a camera, what he aims to depict is what can't be seen—people's emotions and spirits. "There are scripts and lines for the actors but I think my method of filmmaking doesn't end there. There are the emotions that the actors hold as they act out their roles. This is something I don't need to explain but what I'd like the audience to pick up."

"There's Nothing to Be Afraid of" (2013/110min./Japanese/Japan)
Producer/Director: Hisashi Saito
Cast: Sakiko Takao, Mutsuo Yoshioka, Nao Okabe, Kinuo Yamada, Syoichiro Tanigawa, Hiroshi Kashiwabara, Kazue Tsunogae, Ryu Morioka
I see him every day, but never what he sees… A delicate depiction of loneliness, love, and ego hidden between the lines of a couple's quiet and caring everyday lives.