2013.10.20
[Event Reports]
10/19 (Sat) Not just for kids: Special Program "Pioneers of Japanese Animation"
Special Program "Pioneers of Japanese Animation"

Koji Yamamura (Animation Director)
Moderator: Fumihito Tanaka (TIFF)

©2013 TIFF

The National Film Center of Japan endeavors to safeguard Japan's movie heritage, and on Saturday it held a symposium at the Cinemart in Roppongi to explain its recent activities in restoring the ground-breaking work of two seminal Japanese animators, Kenzo Masaoka and Noburo Ofuji. These days, of course, Japanese animation, or anime, is a world standard, but it wasn't until these two masters, who had been active since the 1920s, were discovered by European festivals in the 1950s that Japan was cited as a place where animated film had to be taken seriously.

In those days, of course, animation was still a limited form, considered in the West to be something for children. As director Koji Yamamura, who is in charge of restoring the works of these two artists, told the full house at the seminar, until the 60s there was no distinction as to a target audience for animation in Japan. Adults and children could enjoy it equally, though the three restored works shown at the presentation might not be suitable for youngsters.

Masaoka's "The Spider and the Tulip" (1943) is based on a children's story, but the impressionistic draftsmanship and focus on the micro world of insects make it more of an art film than something that kids would look forward to on Saturday mornings. More compelling, and disturbing, were the restorations of two of Ofuji's 1950s shorts: "The Whale" and "The Phantom Ship." As Yamamura pointed out in the post-screening discussion, Ofuji during this period made films that were "erotic and pessimistic," reflecting the "human capacity for egotism" that represented postwar Japan. Both shorts are maritime tales. "The Whale" is about a pleasure boat that founders in a storm and when the shipwrecked sailors save one of the female dancers from drowning they attempt to rape her, but are thwarted by the interference of a whale, which seems to have the woman's welfare in mind. "The Phantom Ship" is even darker. A group of pirates pillage a boatful or nobles, killing everyone on board, and then are killed in even more grisly fashion by the ghost ship created by the butchery. Both films were honored at European festival at the time and cited by artists like Cocteau and Picasso as great works of art.

Yamamura mostly discussed the technical challenge of restoring these important artifacts, which though they were preserved by the National Film Center some portions were almost reduced to "dust." He contrasted the two filmmakers, describing how Ofuji came from a rich family but was raised by his elder sister since his mother died young, and thus was "free to do what he wanted." He always worked by himself, and was skilled in the art of paper cutouts, which formed the basis of his animation style: lots of silhouettes and decorative paper. Masaoka, on the other hand, was a team player, a "management style" animator who commanded up to 500 employees in studio settings. These two may have been polar opposites in terms of technique, but they formed the foundation for all Japanese anime production to come.

Yamamura also presented two older Ofuji shorts: "Noroma na jiji" and "Taketori Monogatari." One is a comic piece from 1924 about a clueless middle aged man who has an encounter with a comely female pickpocket, while the other is an abandoned project based on the great Japanese fairy tale "Taketori Monogatari." The director's pet project, however, is to restore as much as he can Ofuji's "masterpiece," "Gulliver's Travels," which addresses that section of Swift's classic in which his peripatetic hero comes to Japan.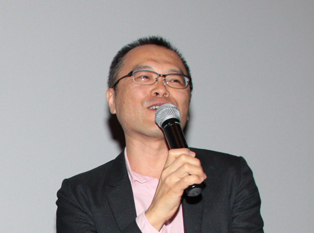 ©2013 TIFF