2013.10.20
[Event Reports]
10/19 (Sat) U.S.-Japan Film Academy: Making it in American from both sides of the Pacific
U.S.-Japan Film Academy: Making it in American from both sides of the Pacific

Chris Weitz (Director/Writer/Producer)
Takashi Shimizu (Director/Writer/Producer)
Moderator: Yoshi Yatabe (TIFF Programming Director)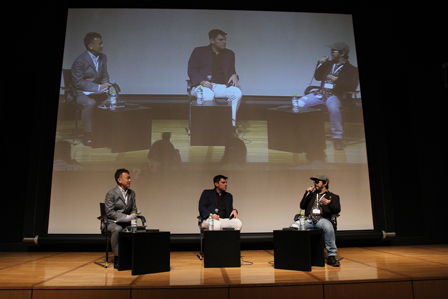 ©2013 TIFF

Hosted by the Embassy of the United States of America, the U.S.-Japan Film Academy attempts to find points of correspondence between the two countries' movie industries. On the surface, it sounds sort of forced: How could you compare the international juggernaut known as Hollywood to Japan's more parochial film business? Well, that doesn't really seem to be the purpose of the seminar. Basically, it's a forum to explore commonalities but also what works and what doesn't.

The two guests this year were directors Chris Weitz and Takashi Shimizu. There is definitely a distinction here—Weitz is a director of big budget Hollywood films, while Shimizu is thought of as a prime creator of "J-horror" who just happens to have been invited to remake one of his hits, "The Grudge," in English in Hollywood with an American cast. But Shimizu was understandably bemused at being asked to participate in the forum. "As a genre, 'horror' seems to be on a lower plane than other films," he said. "Is it OK for the US Embassy to endorse such an idea? I mean, I'll try to be positive." Weitz, on the other hand, was conciliatory. "I didn't endeavor to be a film director," he said. "I studied English literature in university. I wrote a screenplay with my brother for fun that happened to catch the attention of some producers. I never aspired to be a filmmaker as a child, like Steven Spielberg." Or like Shimizu, who admitted to not liking horror movies as a child but nevertheless was totally captivated by "E.T.," and came to the realization that one person's vision was behind the movie. That's what he wanted to do.

The two filmmakers' paths couldn't be more different, or more illustrative of the distinctions between the two countries' industries. "'Star Wars' was the movie for me," Weitz replied when asked which movie most affected him as a child. He saw it when he was 7 years old and then 19 more times. In a sense, he was formed by the economic model that Hollywood adopted in the late 70s and developed throughout the 80s. Still, he understands what it's about. His first hit was "American Pie," a crude comedy that didn't really jibe with his sensibility, which was more literary. He and his brother had entered the business with the script for "Antz," an animated film for Dreamworks whose main purpose was to lure Woody Allen. The fact that they succeeded in that rarefied task made them acceptable to those who call the shots in Hollywood, a situation that Weitz isn't completely comfortable with but accepts because…well, he's a major studio director.

©2013 TIFF

Shimizu has mostly gotten by on his unique style, which caught the attention of Sam Raimi, who produced the American version of "The Grudge." When Shimizu heard that Hollywood wanted to do its own version of his film, which, after all, was originally conceived for home video, he assumed they'd hire an American director to make an American version, and was shocked when Raimi asked him to direct. He felt strange, not just because his English was limited, but also because he had made the movie specifically for a Japanese sensibility. "I didn't think I needed to make another Japanese version," he said. He accepted the job but quickly met with frustration. It was a system decided by economic realities that he didn't understand. Weitz kept nodding his head throughout Shimizu's explanation. He understood it from the more familiar side, but was equally frustrated. The movie they were screening after the talk, Weitz's "A Better Life," was a vanity project that didn't make any money (though it did garner an Oscar nomination for its lead actor). "A lot of the dialogue is in Spanish," Weitz said. "That's a big problem for American audiences."

But he also understood why Raimi insisted that Shimizu direct the American version of "The Grudge." "Horror films constitute the one film genre in Hollywood with guaranteed cost effectiveness. Anything else is a risk." Shimizu replied, "Sam Raimi told me that the person who directed the Japanese version of 'The Grudge' is obviously crazy." And obviously crazy people are valued if they make movies that can make money. Shimizu sounded as if it wasn't an experience he wanted to repeat.

Weitz was sympathetic. "The worst thing you can do in Hollywood is make a movie that you think will make a lot of money," he said, implying that you're bound to be disappointed even if you do make a lot of money. "At least if you make a movie you want to make you're not going to be disillusioned if it doesn't do well commercially."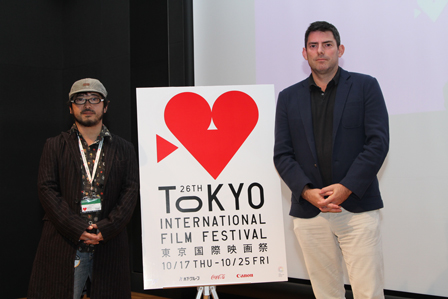 ©2013 TIFF