2013.10.23
[Event Reports]
10/23 (Wed) Coming of Age and Coming to Terms in the 70s: Competition "Those Happy Years" Press Conference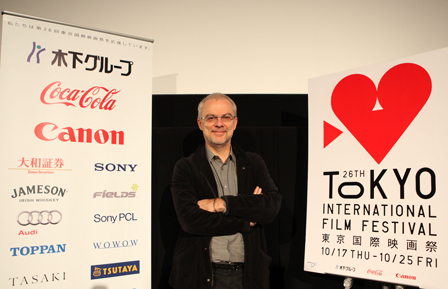 ©2013 TIFF

"Those Happy Years" Press Conference

Time & Location:
October 23rd (Wednesday), from 12:11 @TOHO Cinemas Roppongi Hills Screen 4
Appearance:
Daniele Luchetti (Director)

Daniele Luchetti's "Those Happy Years" is a smart and moving story set in the 1970s of a family in transition – the father, Guido, a self-centered artist and his wife, Serena, who struggles with his infidelities and her own coming to terms with herself. All of this is seen through the eyes of their young son who appears to be suspiciously a self-portrait of Luchetti himself.

When asked about the situations and the characters, Luchetti replied, "The main characters are based on real people – me and my brother and my parents – so, the family structure was based on my family. My father was a sculptor. Between my father and my mother there were some certain things that really happened. And also I include some things that happened to me when I was growing up. Some of them are real stories. Some of them are imaginary stories. It's hard to say which is which. I wanted to make a personal story, but also I wanted to have some universality to it. Autobiography, if you push it, becomes a story."

He added, "This is my 10th film and it's actually the first time I've made a film based on my own experience, though the story is actually reconstructed. I think a filmmaker starts with something that he knows very well. Even if you create a totally different character from yourself, a filmmakers tends to think, 'What would I do if I were in his or her shoes?' So, by overlapping your own point of view, it makes a very original story."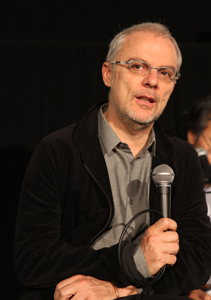 ©2013 TIFF

Luchetti was asked about how Guido's need to be acknowledged and praised relates to his own life.

He answered, "This story is based on my own experience. Yes, the relationship between my parents was like that. And even in this film, the father, Guido, was influenced by his mother. Not just because he wanted to be an artist, but he wanted to praised by his mother. And as for myself, although my father has passed away, I shoot films, I make films and I do worry about what my father would have said. And my mother is still alive and I do care about what she says about my films. So, artists, in the end, are not necessarily very free."

Kim Rossi Stuart plays the father, Guido. Stuart embodies a difficult role. He's very selfish, but he's a loving father, if somewhat confused man.

Luchetti filled in some details. "Yes, he was my first choice. In the script there's a lot of detail on how he walks, how he touches his hair. And Kim made a very good study of that. And when he performed he really looked like my father."
But at the heart of the film is Serena, his wife. Micaela Ramazzotti bravely plays a woman, who is completely devoted to and submissive of her husband. As she learns more of herself after a sojourn to a feminist camp – even has a lesbian relationship – her strength grows, as does her confusion.

"What's incredible about her is that she could really go into the character. She could really live that character. She could really sink into the feeling of a scene," said Luchetti.