2013.10.23
[Event Reports]
10/21 (Monday)Japanese Cinema Splash: "How Selfish I Am!"Q&A Session: Notes & Quotes
©2013 TIFF

Thank you for your interest in the 26th Tokyo International Film Festival. Q&A session was held for the Japanese Cinema Splash section, "How Selfish I Am!" as follows:

Time & Location:
October 21st (Monday), from 14:31 @TOHO Cinemas Roppongi Hills Screen 3
Appearance:
Daigo Matsui (Director/Screenplay/Editor), Naoki Yokota (Producer), Shunsuke Daitoh (Actor)

Daigo Matsui, director of this film and CreepHyp's video director, Naoki Yokota, the producer and CreepHyp's music director, and Shunsuke Daitoh who played Tsuda, shared their thoughts about the film and the rock band.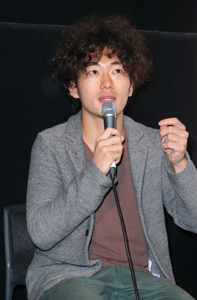 ©2013 TIFF

Yokota started off by telling the audience how this film came to be. "I'm the producer of this film but my real job is a music producer at a record company where I'm in charge of directing CreepHyp's music. Every time they come out with a new song, Mr. Matsui would visualize the music which gradually compiled into something fascinating. We then added more visuals, music, made some changes to build a film."

He also shared that this film started off as a short movie about a nightclub hostess. Yokota loved what Matsui had created, which led to filming CreepHyp's first music video. Shunsuke Daitoh appeared in this video. For their second single cut, Yokota and Matsui made their second short film about the office worker. "With two short movies and a single cut promotional video in our hands, Matsui and I agreed that what we had was worth making into a film."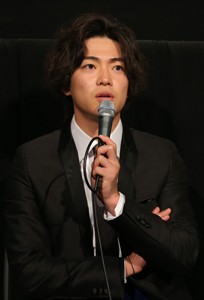 ©2013 TIFF

Shunsuke Daitoh who is a big fan of CreepHyp, played Tsuda. He wasn't shy in admitting that he didn't wait for Matsui to offer him a role. "I asked Mr. Matsui to offer me the role! I knew that Mr. Matsui was filming CreepHyp's music videos so I pitched myself in." Daitoh had wanted to work with Matsui ever since they first met in 2009, when Matsui was working on his debut film. "I had so much respect for Mr. Matsui that I kept on telling him I'd love to work with him in anything he makes in the future." Daitoh recalled enthusiastically and continued, "When I bought CreepHyp's CD, it came with a promotional DVD freebie. I then saw Director Matsui's name on it and I instantly believed it was destiny!"

As for the story, there are many rough and brutal expressions throughout the film. When asked if the violence is directed to himself, "I don't believe in hurting people and I eschew any form of expression that might stab someone's heart. When you avoid doing so, you start to choose words overly carefully which makes you become very indirect", said Matsui as he carefully chose his words. "Perhaps this relates to CreepHyp's music. So the rough expressions in the movie results from suppressing words and direct emotions too strongly—like when you want to hug someone very much, but can't because of an overload of love." Matsui also explained that this is why Tsuda has many CD players—that he knows he can't hurt people so takes out his frustration on the machines…

At the end, all three of them had a rush of words to describe CreepHyp.

Daigo Matsui: Some rock bands directly shout out their emotions and passion which can be boisterous. In contrast, CreepHyp's songs make you feel self-conscious, almost awkward because their songs seem to almost shy away from wanting to express themselves. I like that quality in their music.

Shunsuke Daitoh: In reality, there's a lot of glossing over the truth by lining up nice words. CreepHyp reminds me of this. There are people I dislike but in truth, there are people I dislike, yet respect. And I think that's the way it is. You can't love everybody unconditionally nor be loved the same. The world can be a superficial place.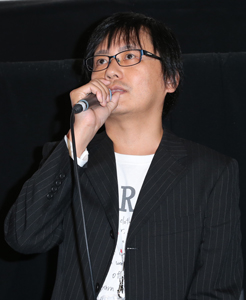 ©2013 TIFF

Naoki Yokota: When creating their songs, it's more about trying to fit all the pieces together. When compiling songs for their first music album, the songs we had all came together as if one big performance. So after each piece of music was visualized, we saw they could consolidate and amass into a film. I'm truly happy to see their worldview expressed on screen. The film says everything about CreepHyp

How Selfish I Am! will be on screens from October 26th at Eurospace.

"How Selfish I Am!" (2013/106min./Japanese/Japan)
Director/Screenplay/Editor: Daigo Matsui
Cast: Sosuke Ikematsu, Mei Kurokawa, Maho Yamada, Sei Ando, Shunsuke Daitoh, Hiroyuki Onoue
Written and directed by Daigo Matsui and based on an idea by rocker Sekakikan Ozaki, this unusual musical coming-of-age film follows young people down on their luck.