2013.10.20
[Event Reports]
10/18 (Fri) Japanese Cinema Splash: "And the Mud Ship Sails Away" Q&A Session: Notes & Quotes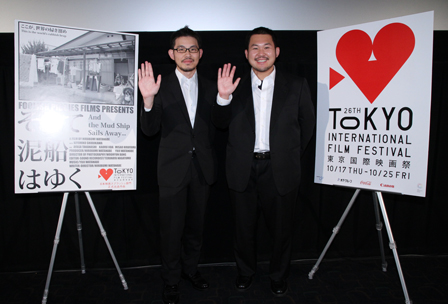 ©2013 TIFF
Q&A session was held for the Japanese Cinema Splash section, "And the Mud Ship Sails Away" as follows:

Time & Location:
October 18th (Friday), from 18:33 @TOHO Cinemas Roppongi Hills Screen 1
Appearance:
Hirobumi Watanabe (Producer/Director/Screenplay), Yuji Watanabe (Producer/Music)

"All we talk about is movies" says Director Hirobumi Watanabe and Yuji Watanabe who created the music for this film and Hirobumi's brother. With only four crew members and a limited budget, they heartily shared what it was like to shoot "And the Mud Ship Sails Away".

Hirobumi Watanabe: Thank you for coming to see my film today.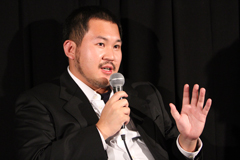 ©2013 TIFF

Yuji Watanabe: It is an honor to have our film screened at the Tokyo International Film Festival. Thank you.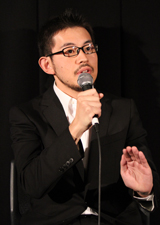 ©2013 TIFF

Kiyohiko Shibukawa who played Hirayama stole the stage for this film. Director Watanabe explained that he'd worked with Kiyohiko Shibukawa in two stage performances before they made this movie. "Mr. Shibukawa is a great actor and a person and I was determined to have him in my film one day. But I had to work part-time jobs to fund this film, so it took some time to finally come around to shoot a movie with him."

When asked what message the director wanted to convey through this film, Watanabe shared what it is like to grow up in a city like Ohtawara. "Life in Ohtawara City is quite monotonous so I wanted to portray a man who does nothing because he can't do anything in such a city." He also shared that this film was not a low-budget but actually closer to a no-budget movie. "So, when I was writing the script, I thought of making a movie about nothing. But I knew that wouldn't work so I changed it to a story about a guy who does nothing because he can't do anything. The scenes in the movie is a recurrence of that 'nothingness'."

The music was created by Yuji Watanabe, who is also the director's younger brother. As they grew up watching the same films together, he described that making music for his brother's films were easy. "However, when the underlying theme of a film is 'nothingness', it's quite a challenge. I don't like using dark music for dark scenes nor lively tunes for happy scenes. I believe that movie music shouldn't lean to express a single emotion. By not doing so, music can orchestrates the story."

The impressive grandmother was played by Misao Hirayama, who is Watanabe brothers' actual 96 year-old grandmother. Describing her as "a unique person with character", Grandma Hirayama worked for the movie industry in her younger days, making kimonos for Kinuyo Tanaka and Takako Irie. "Grandma didn't have a script so she was 'acting' by simply being herself. There were scenes where I wanted her to remain quiet, but she'd suddenly join in the dialogue between two actors! But the actors would just continue the scene, with my grandmother, very naturally."

Actors Kiyohiko Shibukawa, Ayasa Takahashi, and Kaoru Iida sat among the audience to see their film's world premiere screening. The each made a brief comment at the end of the Q&A session.
Kiyohiko Shibukawa: I saw the movie for the first time today but it was hard to maintain a third-person viewpoint.

Ayasa Takahashi: Director Watanabe told me that this movie was already on DVD, but he wanted me to see it for the first time on a big screen. I'm glad I did. I hope to mature as an actress just like how this film made it to the big screens.

Kaoru Iida: This movie will be screened again on the 22nd, so please come again!
Director Watanabe confessed that he literally put his life on the line to shoot this film. "I'd really like to hear what people have to say after watching my film."

Japanese Cinema Splash
"And the Mud Ship Sails Away"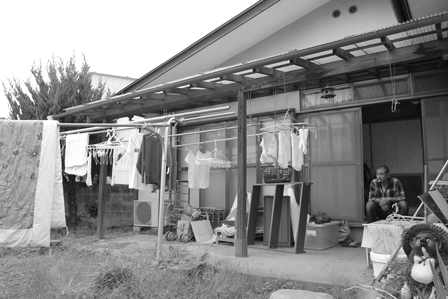 ©2013 Foolish Piggies Films

Producer/Director/Screenplay:
Hirobumi Watanabe
Cast:
Kiyohiko Shibukawa, Ayasa Takahashi, Kaoru Iida, Mina Takeda, Hitoshi Suzuki, Satoshi Haneishi, Kodo Toda, Misao Hirayama