2013.10.18
[Event Reports]
[Report]The 26th Tokyo International Film Festival Opening Ceremony : The Green Carpet and the Opening Ceremony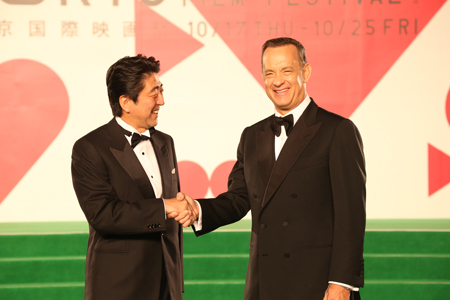 ©2013 TIFF
Green Carpet
The first to walk down the Green Carpet was actress Chiaki Kuriyama, the Festival Muse for the 26th Tokyo International Film Festival. "TIFF is a place for people to have fun. I think Japan is a unique place where people can be inspired to create new kinds of entertainment. So come to TIFF and let's enjoy the festival together!" commented the oriental beauty. Also seen on the walkway were the actors, actresses and directors from various sections: Japanese Cinema Splash, Special Screenings, Asian Future, World Focus and the Competition Section. A loud roar rose from the spectators as Tom Hanks, starring in CAPTAIN PHILLIPS in the Special Screenings Section and Prime Minister Shinzo Abe made their joint appearance on the carpet and the arena stage. The guests attended the Opening Ceremony and the Opening Film screening held at TOHO Cinemas Roppongi Hills.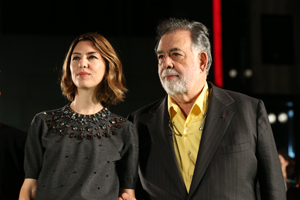 ©2013 TIFF
Opening Ceremony
Actress Chiaki Kuriyama, the Festival Muse expressed her enthusiasm towards the festival. "Tokyo International Film Festival has aimed at creating a platform for young and creative talents since its first edition. This year, once again, there are many films created by young, talented filmmakers and actors and I am very excited that they will be screened."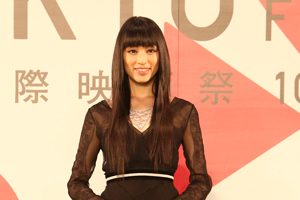 ©2013 TIFF

Toshimitsu Motegi, Minister of Economy, Trade and Industry (METI) stated, "Welcome to Japan! I thank people from various industries and abroad who have made this festival possible. Japanese films have been receiving attention and high acclaim internationally. And METI is promoting the COOL JAPAN strategy to showcase Japan to the world. Our job is to revive our economy by working in unity to aim for a Japan full of hope."

Two new film sections have been created for the 26th Tokyo International Film Festival: The Asian Future Section for up-and-coming directors, and the Japanese Cinema Splash Section to support the independent film scene. Members of the jury are Shinji Aoyama (Film Director), Jacob Wong (Curator), Koichi Nojima (Film Journalist) and Paolo Bertolin (Program Advisor for the Doha Film Institute), Christian Jeune (Deputy General Delegate at the Festival de Cannes) respectively. Next, the five members of the International Competition Jury stepped onto stage: Moon So-ri (Actress), Chris Brown (Producer), Chris Weitz (Director/Writer/Producer), Shinobu Terajima (Actress), and President of Jury, Chen Kaige (Film Director).

Mr. Kaige represented the jury to share his excitement. "It's a great honor to be here. Last night I was stuck at Beijing Airport because of a typhoon. But I'm used to this kind of situation because there are worse situations than typhoons when filming movies. Making a film is like shining a ray of light into the darkness—you are depicting people's emotions, confessions, and sacrifices. Tom Hanks said in Forrest Gump that "life is like a box of chocolates—you never know what you are going to get."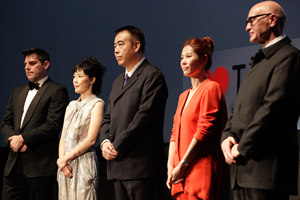 ©2013 TIFF

Yasushi Shiina, Director General of the 26th Tokyo International Film Festival also welcomed the guests and made a surprise announcement that Prime Minister Shinzo Abe will be coming onto stage very shortly.

Mr. Abe began with the same line as Director Chen Kaige. "Life is a like a box of chocolates—you never know what you're going to get. This describes my life as I currently proceed with my economic policies in Japan. I hope the content industry will be at the core of the economic rise because there is great potential for the Japanese film industry and we welcome talented people who will play a central role."

The last surprise came at the end when Tom Hanks and Director Paul Greengrass joined the prime minister for a brief photo session. Tom Hanks then sent out the following message to movie fans in Japan:
"You have nine days of marvelous motion picture coming your way. Let's start now!"
With that, the Opening Film, CAPTAIN PHILLIPS began its screening.